Wednesday, April 28th, 2010 Posted in Blog, News
This First Friday May 7th Artemis Gallery will be featuring the work of Lance Rogers
in his own gallery debut!  He works as a creative professional in the heart of downtown
Richmond, VA and does his artwork in his spare time.  He specializes in sculpture and
metalwork and will be featuring a kinetic piece in the show.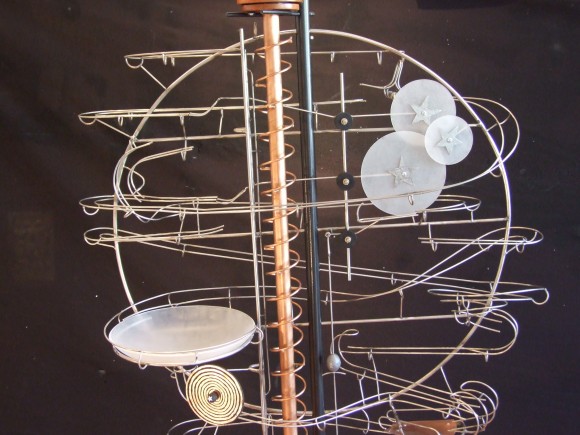 Lance spent much of his early childhood in the basement workshop of his family's
home, tinkering with found materials like wood, metal, old motors, whatever he
could get his hands on. Deconstructing ordinary household objects was just as
important as creating new ones.
"Over the years, not much has changed. I don't have a driving desire to
communicate deep thematic pieces of art. I'm more driven to simply create
objects that tap into design elements of the natural world. If my art is
aesthetically pleasing and makes people smile, that's what I consider a win."
So don't forget to mark your calendars on Friday May 7th to come to Artemis Gallery
to see the work of Lance Rogers!  And while you're there, pick up a Mothers Day gift!  As
always we look forward to seeing you at Artemis Gallery!