Tuesday, September 13th, 2011 Posted in Blog
These past two Fridays at Artemis Gallery were a blast! Ceramics Artist Valerie West made her appearance both nights and spoke with friends, family, professors, and art enthusiasts about her work and her many techniques! She even brought honey from her own bee hive!
If you did not get a chance to make it out either nights to the show, feel free to stop by during the rest of this month during our weekly hours of  W – F between 2 and 7pm and Sat 12 – 5pm! We'd be happy to show you around!
Also featured both evenings were the lovely ladies of Sueños Gitanos playing flamenco guitar outside the gallery.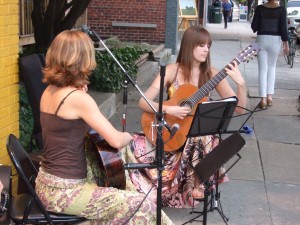 To view more images from our opening, click the link below!