Friday, September 17th, 2010 Posted in Blog
This October, Artemis Gallery is looking for artists interested in contributing to an outdoor interactive wall painting.  We will have a large scale sheet of canvas provided which will allow up to four artists to create their own works of whatever they like!  The paintings will be displayed on the outdoor side wall of Artemis Gallery for the month of October for everyone to see!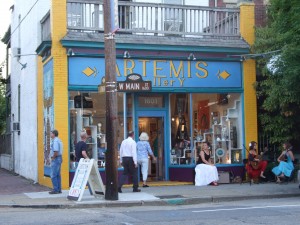 Anyone who is interested in applying must submit a completed 8″ x 10″ full color sketch by Monday September 27th to holly.sullivn@gmail.com.  After reviewing all submissions, we will contact the artists we decide to select by the 29th.  Those artists who are selected will come to the gallery on our First Friday opening night (Oct 1st) to paint their selected piece as a part of the opening!
For more info about the show or submission guidelines, please email our Assistant Director Holly Sullivan at holly.sullivn@gmail.com